Yoga Quotient Movement Practice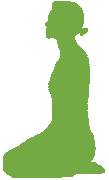 Yoga Quotient Movement Practice is a dance-like approach to yoga body conditioning that increases your range of movement, reduces pain and tightness, and invigorates your entire being with peaceful, robust energy. Emphasis is placed on movement rather than form, so that, while Yoga Quotient builds strength and improves flexibility, it is done with moving energy, maximizing fluid connectivity of the whole body and engaging a joyful, spirited well-being.
Yoga Quotient Slow is a slow and therapeutic class done lying on the floor or seated with minimal weight bearing exercises. This class is designed for those who have had chronic injury or illness, are challenged by normal yoga routines, or simply want a deep and thorough practice for the body. For those who are unsure of or concerned about their physical abilities going into yoga practice, this is a good place to start.

Yoga Quotient Basic

starts slowly as we begin to learn about directing energy in the body using breath, imagery and sensory awareness. Gradually, movement and postures are explored with emphasis on finding internal support while opening and conditioning the joints of the body. The scope of this class remains in the range of basic yoga exercises, but will include seated, kneeling, standing, inverted and lying down practice.

Yoga Quotient Ongoing

builds on the sequences and forms used in the Basic class, taking them to a more challenging and refined level. The Ongoing class is designed to accommodate students for a long term growth in their practice, so once the post-basic routine and forms are learned, new material will be regularly introduced as a means of inspiring and spurring continued growth.